Positive Intelligence
Feb 04, 2022
2022-06-19 14:20
Positive Intelligence
Positive Intelligence
I am excited to be working closely with Reboot Quotient A-Team to bring you a program that I am very passionate about - Positive Intelligence.
This Positive Intelligence (PQ) program is one of the most impactful learning programs I have ever experienced. The valuable contents delivered through the app makes it easy and sustainable to apply to my life.

Recognising my SABOTEURS has brought much clarity and peace into my personal and professional life. As a PQ Coach, I have seen my clients; children and adults, move towards their best versions with more ease and flow within six weeks. I'd recommend it for anyone who's looking to live a fully authentic life even in uncertain times.

Most teams work too hard, experience too much conflict, friction and stress, and vastly underachieve their potential. This is because every team member is unknowingly sabotaging both their own and their team's performance and wellbeing. We'll enable your teams to maximize both performance and wellbeing simultaneously by focusing on the root-level mental muscles that impact both.
Build & Support High-Performing Teams
Our initial six-week app-guided program boosts each individual's mental fitness through the Saboteur Interceptor, Self-Command, and Sage muscles. Starting in week 7, the app modules enable a team to assess their strength on the 4 Pillars required for maximal team performance and wellbeing: Triple Purpose, Earned Trust, Healthy Conflict, and Mutual Accountability.
Elevates Your Organization's EQ
Positive Intelligence represents a breakthrough in your ability to raise Emotional Intelligence (EQ) across your organization. The main challenges until now have been the existence of too many EQ competencies (18) and that initial improvements quickly fade over time.
Positive Intelligence dramatically simplifies this challenge due to factor analysis research that identified the root-level building blocks of EQ. 17 out of 18 EQ competencies are automatically developed through a combination of intercepting the negative Saboteurs and activating Self-Command and the 5 positive Sage Powers.
The resulting EQ improvements are sustained because we focus on building habit-forming mental muscles, not just insights.
98% of our program participants experience EQ growth. The percentage of participants improving each competency are listed below:
Six Weeks of Foundation
The first six weeks use intensive 15-minutes/day of practice to lay out foundational neural pathways forming the 3 core muscles of mental fitness: Saboteur Interceptor, Self-Command, and Sage.
Months of Applications
Once the foundational core muscles are established, the app guides ongoing individual and team applications of these newly-acquired capabilities.
Sustained Engagement
Inspired by measurable results and gamification, participants continue to level up on the Saboteur Interceptor, Self-Command, and 5 Sage Powers. Each new application grows the core underlying muscles.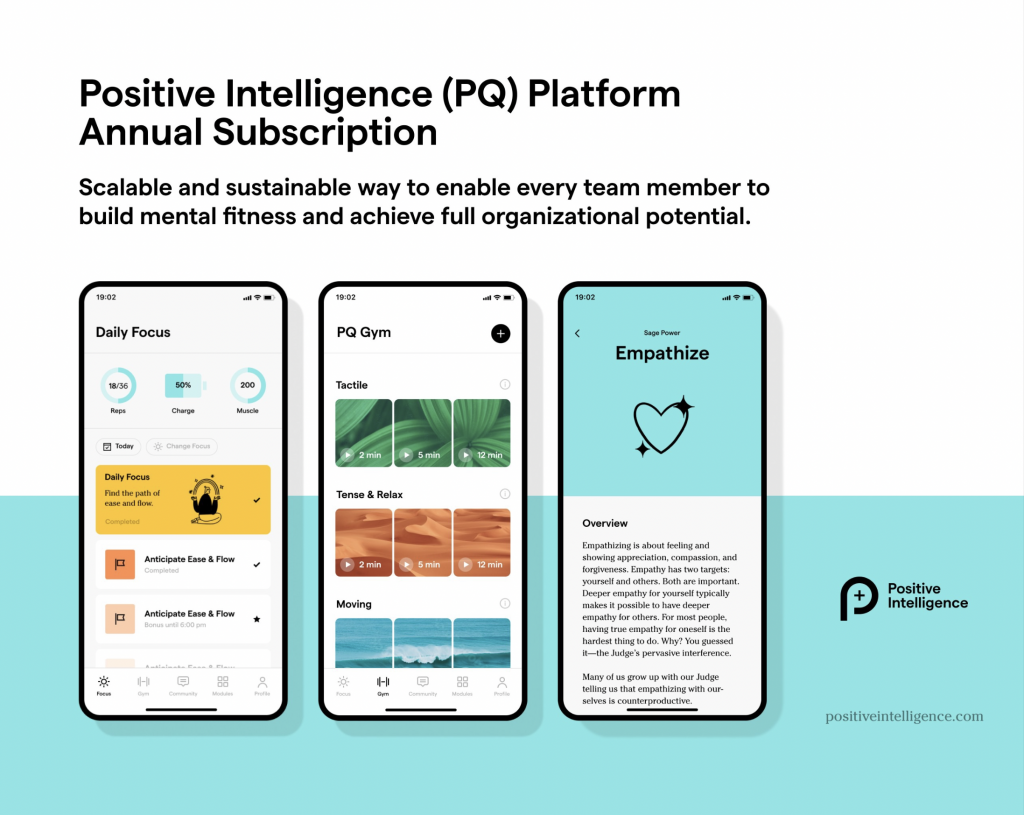 Imagine yourself and your colleagues, able to remain calm, clear headed, stress-free, and positive even in the midst of handling work and life's greatest challenges. What becomes possible for you, in achievement, in peace of mind and wellness, and in your relationships? Make a commitment now to boost your mental fitness.
So I invite you to…
Explore the Program
IBF Funding Available

Skills Future Funding Available
If you would like to find out more about this program, connect with me or you can also download this brochure here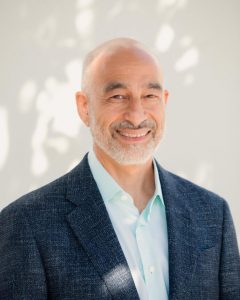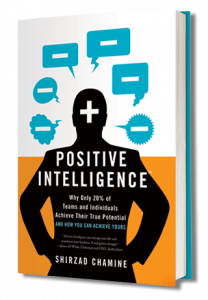 Shirzad Chamine
Shirzad is the author of the New York Times bestselling Positive Intelligence. Shirzad has lectured on Positive Intelligence at Stanford University and has trained faculty at Stanford and Yale business schools.Shirzad has been the CEO of the largest coach training organization in the world. A preeminent C-suite advisor, Shirzad has coached hundreds of CEOs and their executive teams. His background includes a BA in psychology, an MS in electrical engineering, and an MBA from Stanford.
How We Self Sabotage
Saboteurs are the voices in your head that generate negative emotions in the way you handle life's everyday challenges. They represent automated patterns in your mind for how to think, feel, and respond. They cause all of your stress, anxiety, self-doubt, frustration, restlessness, and unhappiness. They sabotage your performance, wellbeing, and relationships.