Kids (3-12 yrs)
Nov 06, 2020
2021-01-05 13:17
Kids (3-12 yrs)
Positive Kids (7-12)
Our empowering weekly program is designed to teach children aged 7 -12 years with essential life-long skills through continuous practice and reinforcement. This programme is led by Miss Has AR, an expert with more than 24 years in the field! 
New Term Starts Jan 2021 (Last 2 seats!)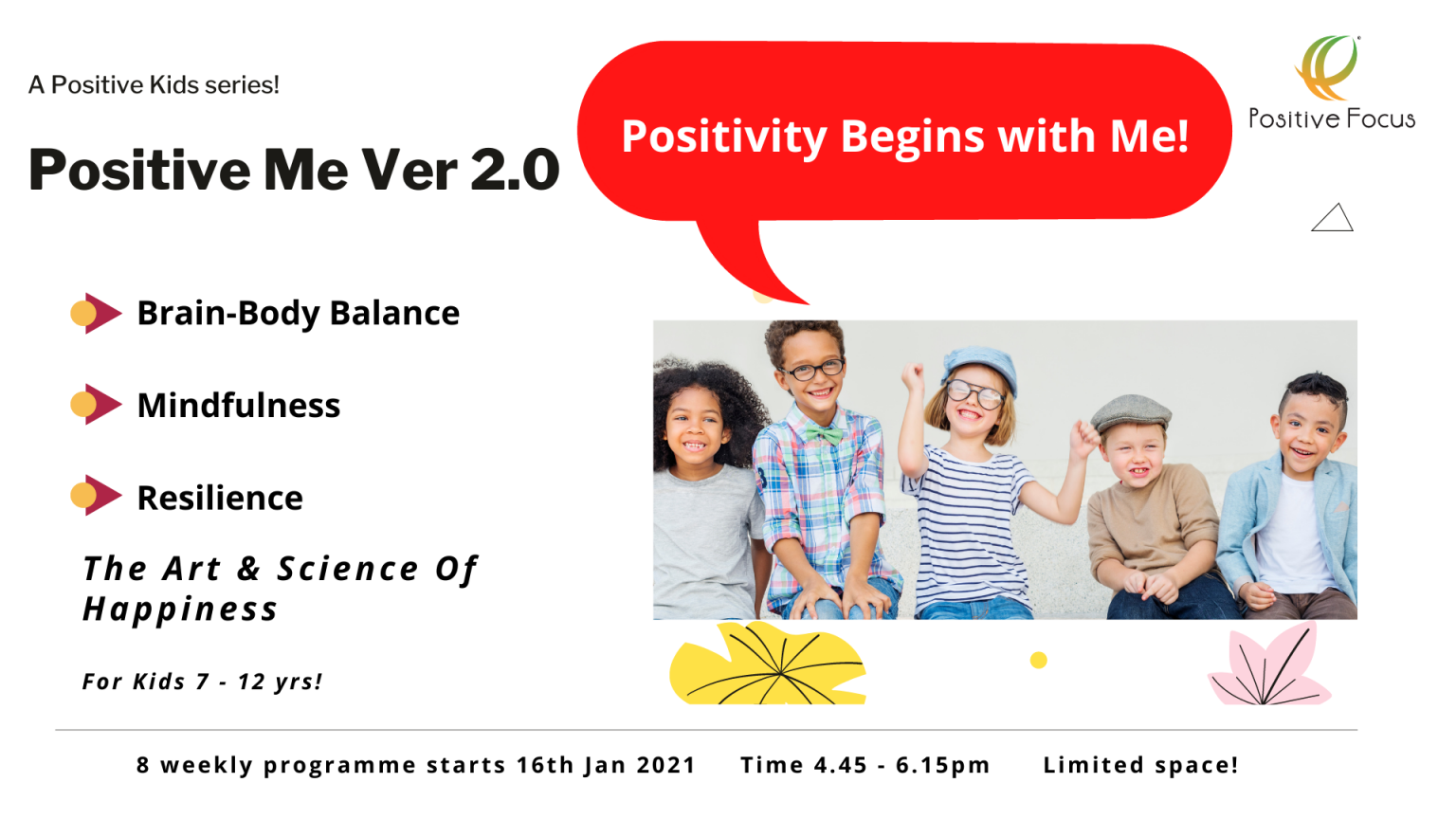 The mixed-aged class combines fun and play with proven methodologies to help children develop simple and practical strategies they can employ independently in their daily lives. These skills will promote personal development and the ability to deal with transitory challenges, school stress, sibling rivalry and more.
Mind-and-Body activities are structured to enhance the child's overall well-being, improve their inner ability to regain calmness and composure. Primary schoolers will also increase their mindfulness to better deal with frustration, anxiety and other complex emotions. At the same time, your child can hone their ability to concentrate and focus for more extended periods.
The fun-filled sessions are packed with positive affirmation, games, exercises, and music. These are targeted to strengthen the child's awareness of the connection between mind, body, thoughts and emotions.
We recognise the different stages of growth families go through together with their children's development. Parents are invited to a parenting webinar to support family bonding and collaborative nurturing.
Positive Me Ver 2.0 – Weekly Programme! 
New Topics! Emotional Resilience, Strengths and Courage, Presentation Skills.
This highly interactive 8 – week programme incorporates Science-based Applied Positive Psychology Tools, Neuro-Linguistic Programming (NLP) and Kids Yoga. Students will participate in various age-appropriate, fun and stimulating activities to promote well-being, learn how to be calm, deal with frustrations and anxiety and train their ability to concentrate for more extended periods.
Success Starts with Self Mastery! Music, games, and creative drama are infused into the programme to create meaningful associations and encourage children to find and express their authentic voices and self-expression. These activities allow them to gain a sense of accomplishment and a feeling of success, which promotes positive self-esteem – leading to improved behaviour and a happier state of mind.
Brain-Body Balance 
Positive actions to strengthen the mind-body connection
Positive Kids will practise more than 20 brain integration exercises and Kids Rhythmic Yoga Flow poses with affirmations to:
energise, enhance focus and concentration.

increase motivation levels.

beat procrastination.

develop strength and courage.
Mindfulness 
Positive actions to increase emotional and mental wellness
Positive Kids will be guided to practise and apply strategies to:
Identify strategies to help control impulsive feelings and behaviours.

Observe how our body responds to the way we think feel and act.

Relax with conscious breathing exercises.

Visualise and journal positive outcomes
Resilience 
Positive actions to achieve personal excellence
Apply reframing techniques to transform challenges into opportunities for learning, developing a growth mindset.

Reflect on the things they're thankful for to increase positive emotions and optimism.

Journal strategies to deal with anger or other intense emotions

Participate in team-building games to build their ability to connect with others

 
Term Fees: $560 + $30 material fees
Dates:
Jan 16, 23, 30, Feb 6, 20, 27, Mar 6, 13
(CNY on Feb 12-13 inclusive)
Time: 4:30 pm – 6:00 pm
Duration: 8.1.5hr sessions
Day: Saturdays
Time: 4.45 – 6.15pm
Location: 
Positive Focus @ Imagine If
#12-02/03 Tanglin Shopping Centre
19 Tanglin Road
Singapore 247909
Positive Families - Preschoolers (3 – 6 years)
A fun and interactive programme for family members to learn how to communicate effectively with one other. Parent-to-parent communication is just as important as parent-to-child. Learn how to achieve congruency, maintain positive views, and project a warm and caring environment at home.
Our classes complement the various age-appropriate programmes and acknowledge the different stages families go through in their children's development. It is specially tailored to parents who want to be involved every step of the way in developing positive preschoolers who are healthy and brainy while possessing positive attitudes and behaviours. Activities include:
Mind & Body Fitness
Fitness Fun with Body Alphabet
A-Z Animal Safari Yoga Play
Emotional management
Brain balancing exercises
Music and movement
Speech development & Creative Drama
Mindful listening & breathing
Journaling
Positive communication
Positive discipline (appreciating boundaries)
Contact us for upcoming family programmes!
Growing up with Positive Focus®
From struggling to read, write and learn to currently pursuing a Double Degree in Law and Liberal Arts at The Yale – NUS college.
Stay Updated!
Enter your email address to stay updated with our upcoming workshops and events